I got this from an online store here in Australia I buy from, they posted it as they thought it interesting so Im sharing it
As a Machine Quilter we want our clients to have the best experience possible. One of my policies when taking in a Quilt is that the client must provide a "PRE-WASHED" Backing with their quilt, I don't care if the top fabric has been pre-washed, but the backing MUST be.
Reason:
The fabric purchased in shops these days has multiple times more Chemicals, Sizing, formaldehyde etc on them to keep them looking fresh on the quilt shop shelves.
They didn't use to have the amount they do now but back in the day the average time a bolt would sit on a shop shelf was approx a year at most. These days a bolt can sit on a shelf in a shop for many years. So to keep the bolts fresh, crisp and from fading most fabric manufacturers have added the extra sizing and chemicals.
When a Quilt sandwich is quilted on a quilt with a pre-washed back the needle properly slides through and separates the soft fibres the way it's intended.
When a machine Quilter quilts a quilt with an unwashed backing the needle "PUNCHES" through the stiff over chemical'd backing much like driving a nail through tin or aluminium leaving the fibres torn and also bringing tufts of batting through (bearding). It doesn't happen with "every" unwashed backing because different fabric manufacturing plants use different amounts of chemicals and formaldehyde in their production.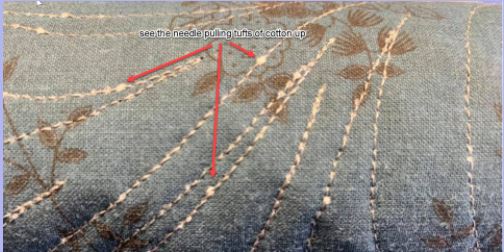 One thing is certain, a pre-washed back "Never" will be an issue whether expensive or cheaper discount. So my suggestion to avoid issues as pictured is develop a consistent "Backing Pre-washed policy" to avoid the above mentioned and pictured issues.
Happy Quilting,
Jamie Wallen

_________________
"My will is mine.....I shall not make it soft for you"  Aeschylus, Agamemnon